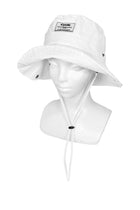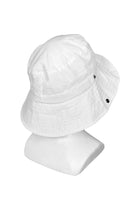 DRAW CODE SUN HAT -WHITE-
Bucket hat made of sporty material
It is also effective as a sunburn countermeasure because it can be worn deeply around the ears.
The item which can play an active part in the outdoor scene
Removable chin strap for excellent functionality
Clear rubber patch in the center
スポーティーな素材で作られたバケットハット
耳周辺まで深く被れるため、日焼け対策にも有効
アウトドアシーンにも活躍できるアイテム
顎紐は取り外し可能で、機能性も抜群
中央にはクリアラバーパッチを施した


COLOR : WHITE

ONE SIZE

HEIGHT (高さ) : 15cm
HEAD MEASUREMENTS (頭周り) : 59.5cm
BRIM (つば) : 8.5cm
STRING (紐) : 81cm

MATERIALS (素材): 100% POLYESTER


Hurry! Only 4 Left in Stock!
Real time
15
visitor right now
PAYMENT METHOD / お支払いについて
Tax Info.
PAYMENT METHOD / お支払いについて
下記のお支払い方法がご利用いただけます。
・クレジットカード(VISA、MASTERCARD、AMEX) ※分割払いはお受けしておりませんので、ご了承下さい。
・Paypal
・Apple pay
・Shop pay
・コンビニ支払
※※支払期限はご注文後5日以内となっております。ご注文完了後、支払番号と支払期限日が記載されたメールが届きます。支払期限を過ぎますと番号が無効となり、ご注文はキャンセルとなります。必ず期限内にご入金をお願い致します。
Tax Info.
※日本国外へ配送するご注文には、配送国の関税等(輸入税、VAT付加価値税、税関手数料等)が別途必要になる可能性がございます。
* For the order shipped outside Japan, extra fee (import tax, VAT, custom duties, etc.) may be charged.