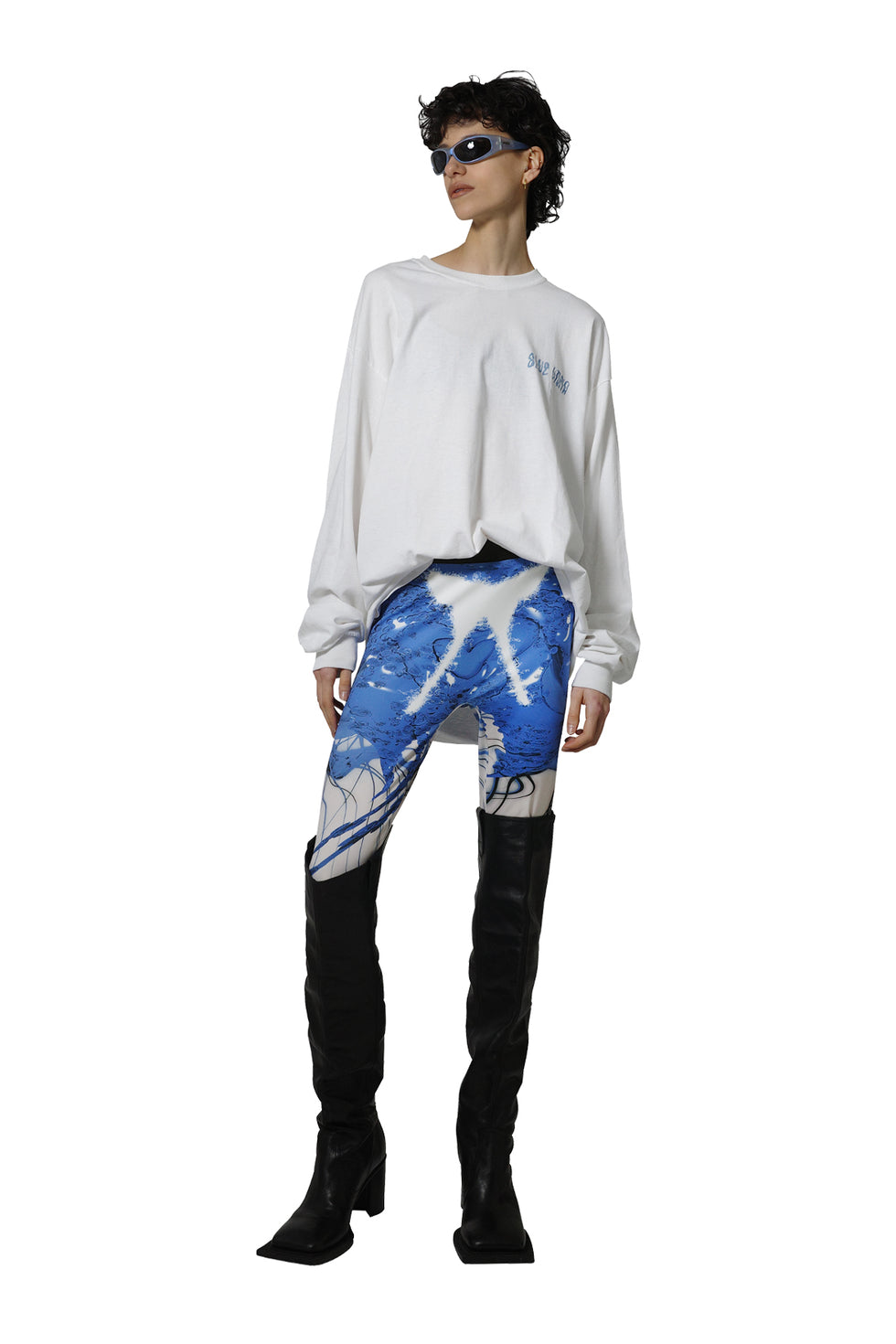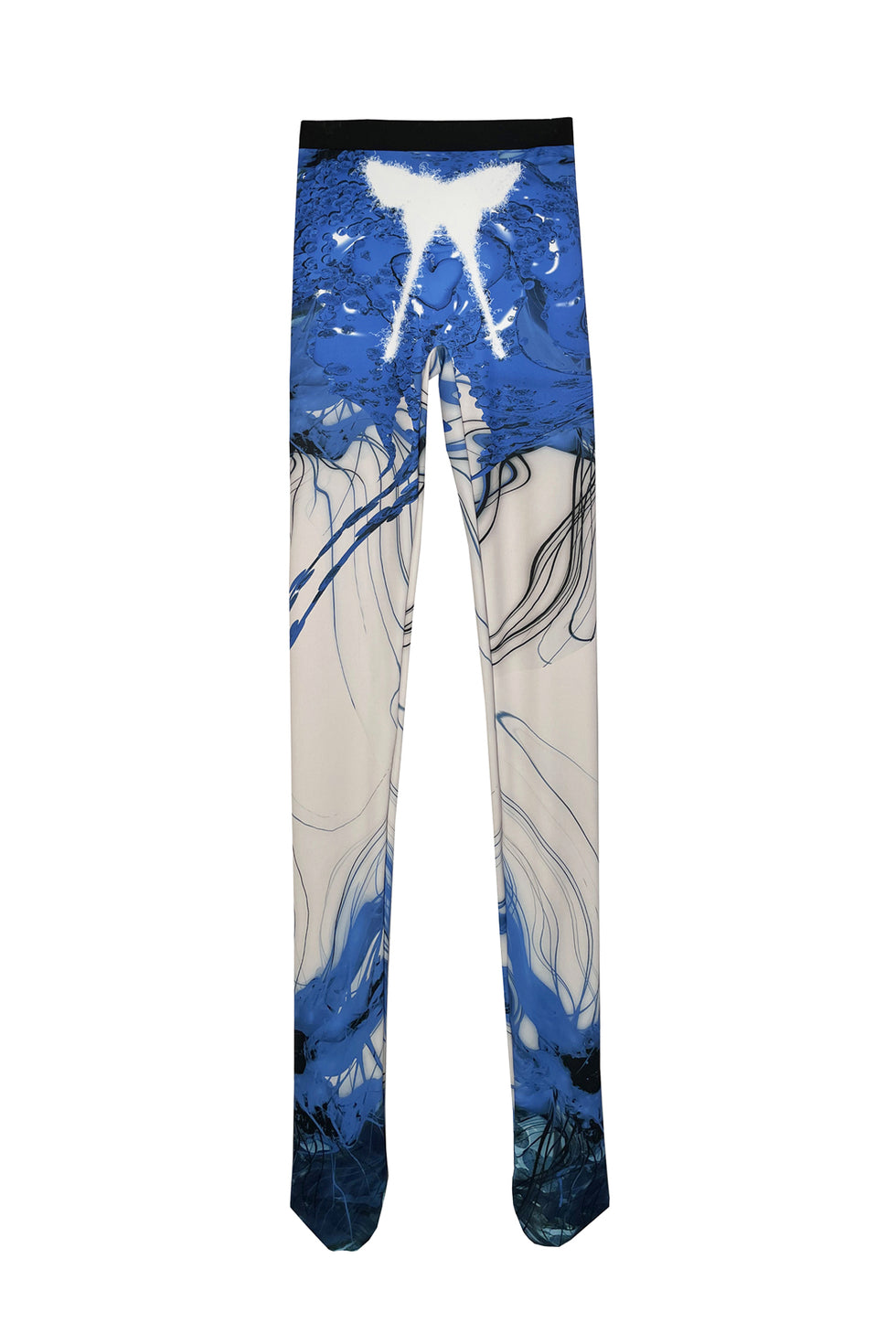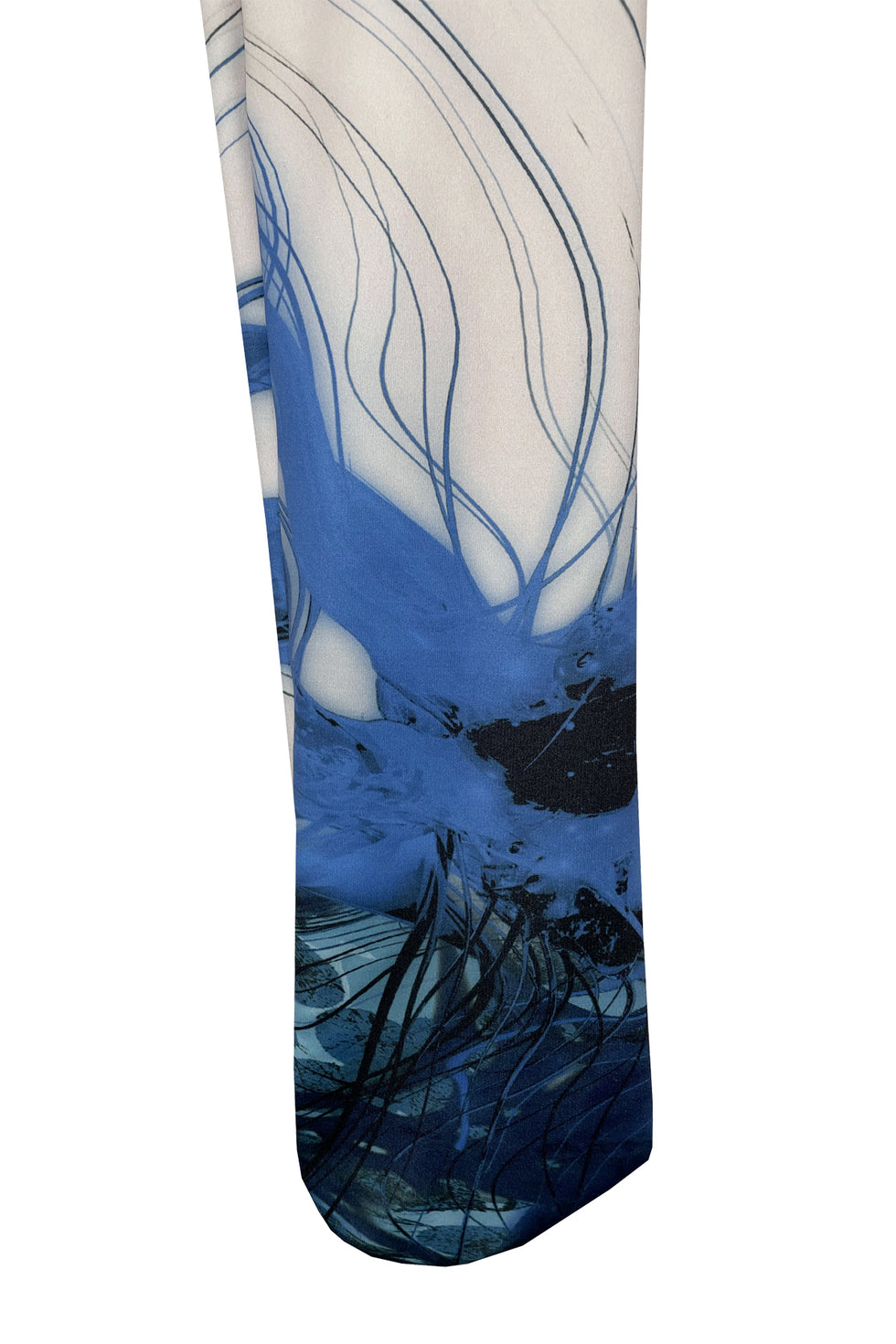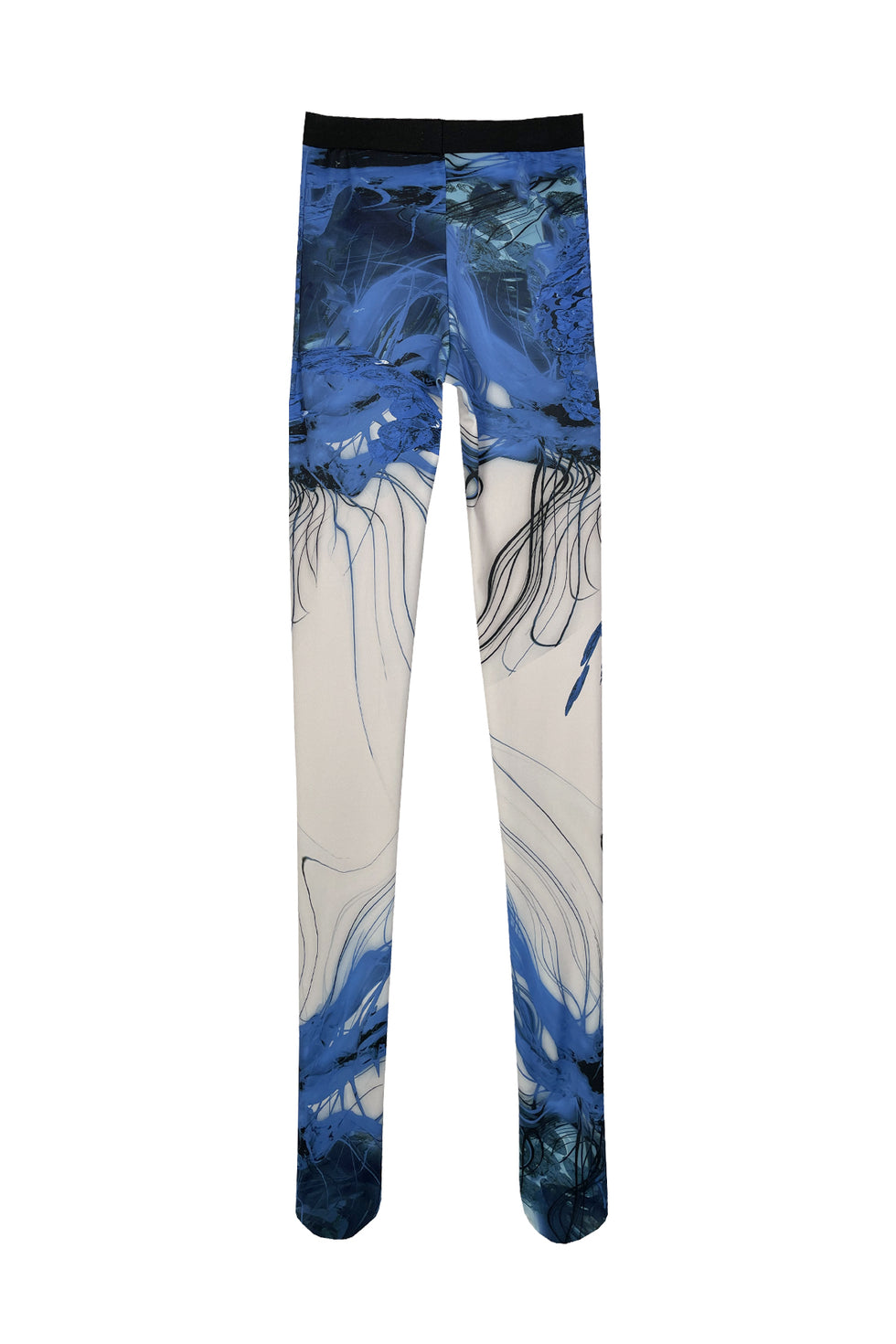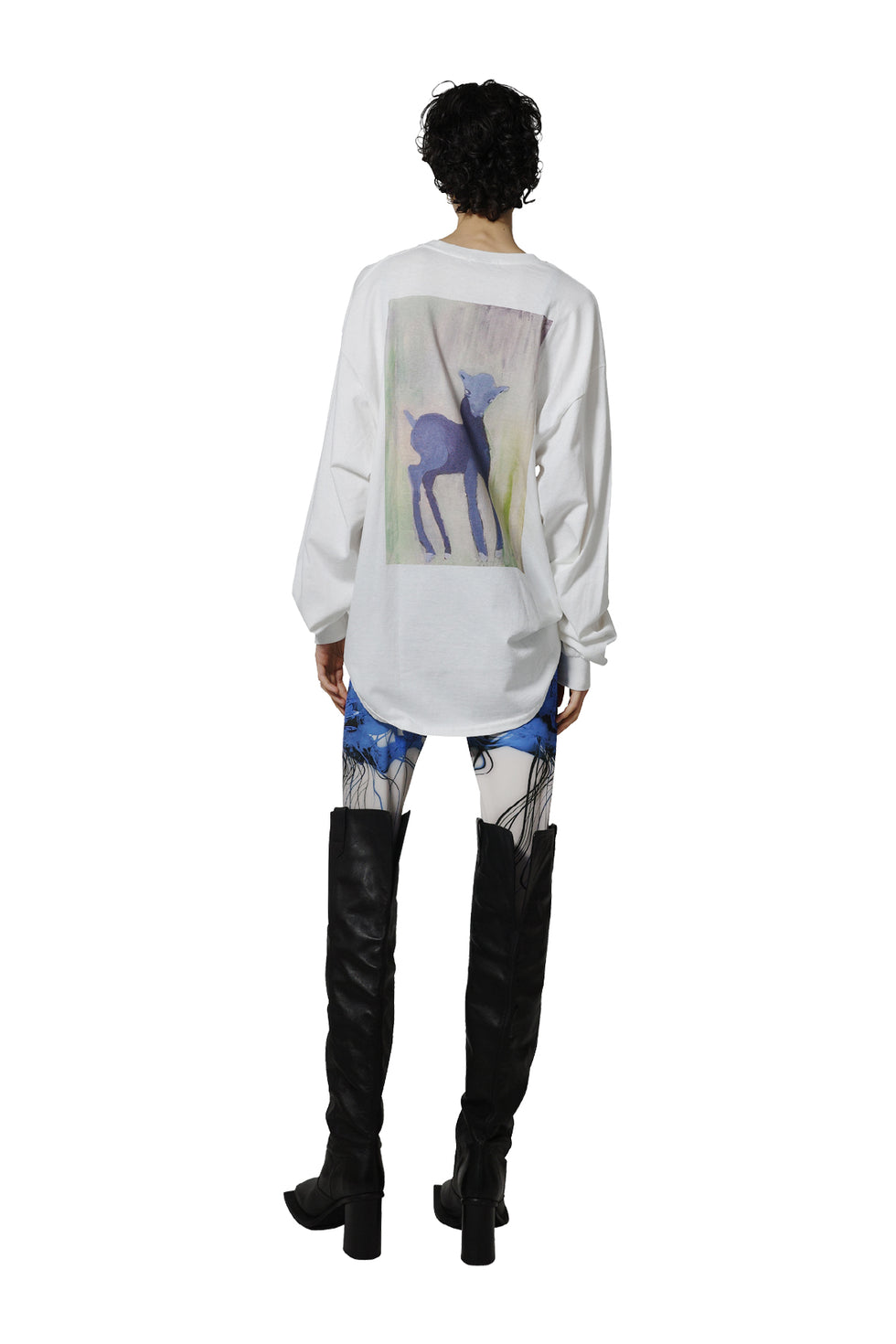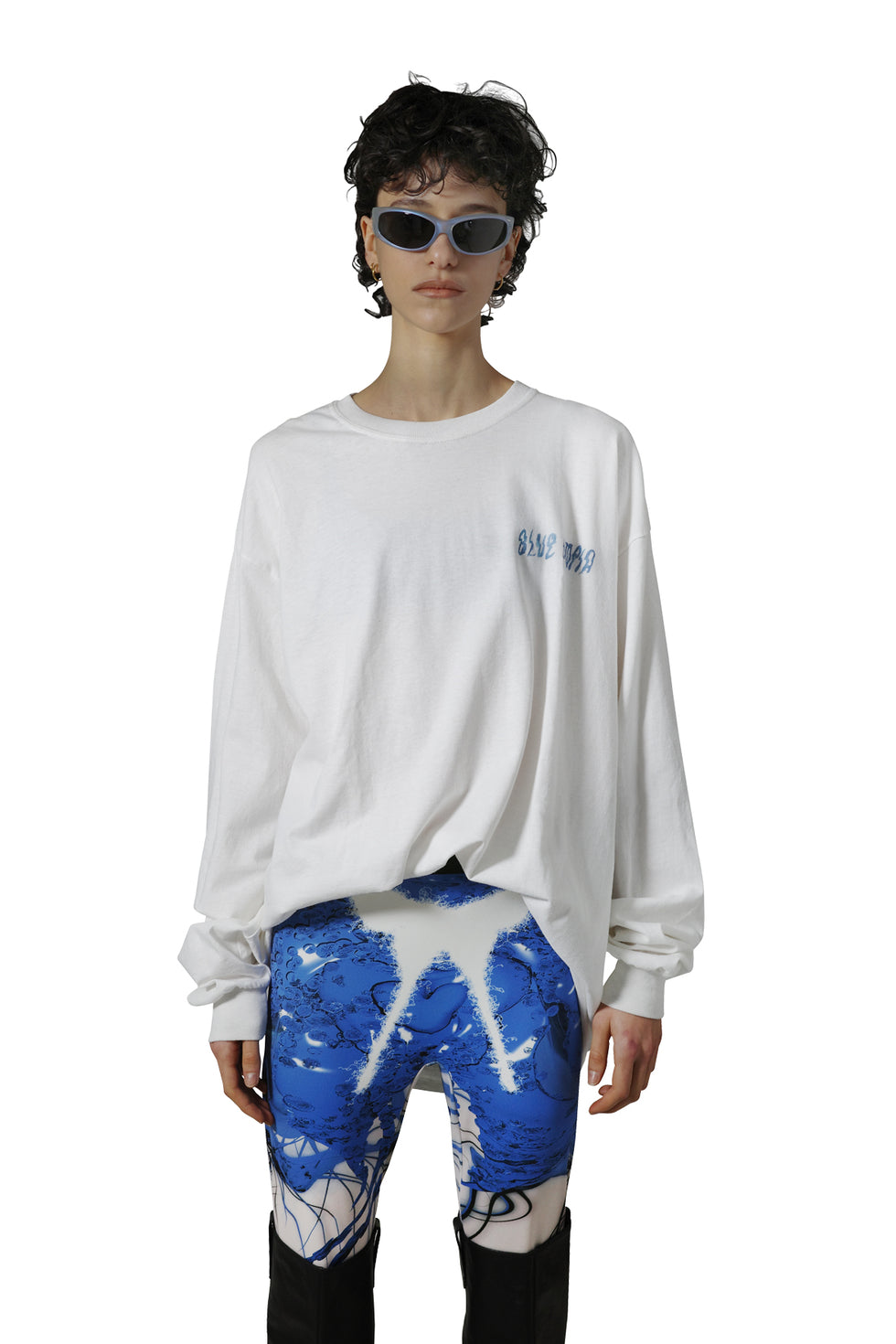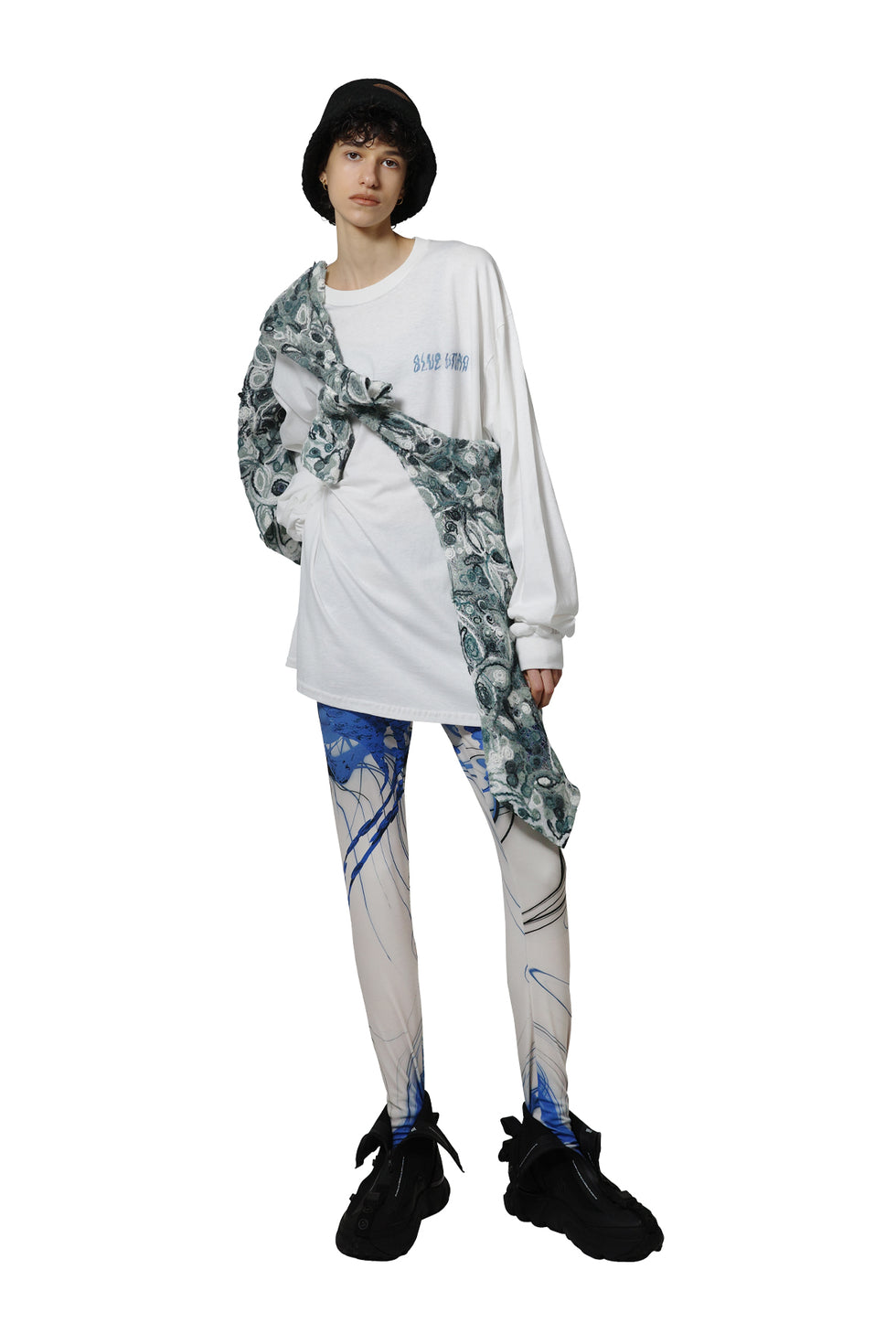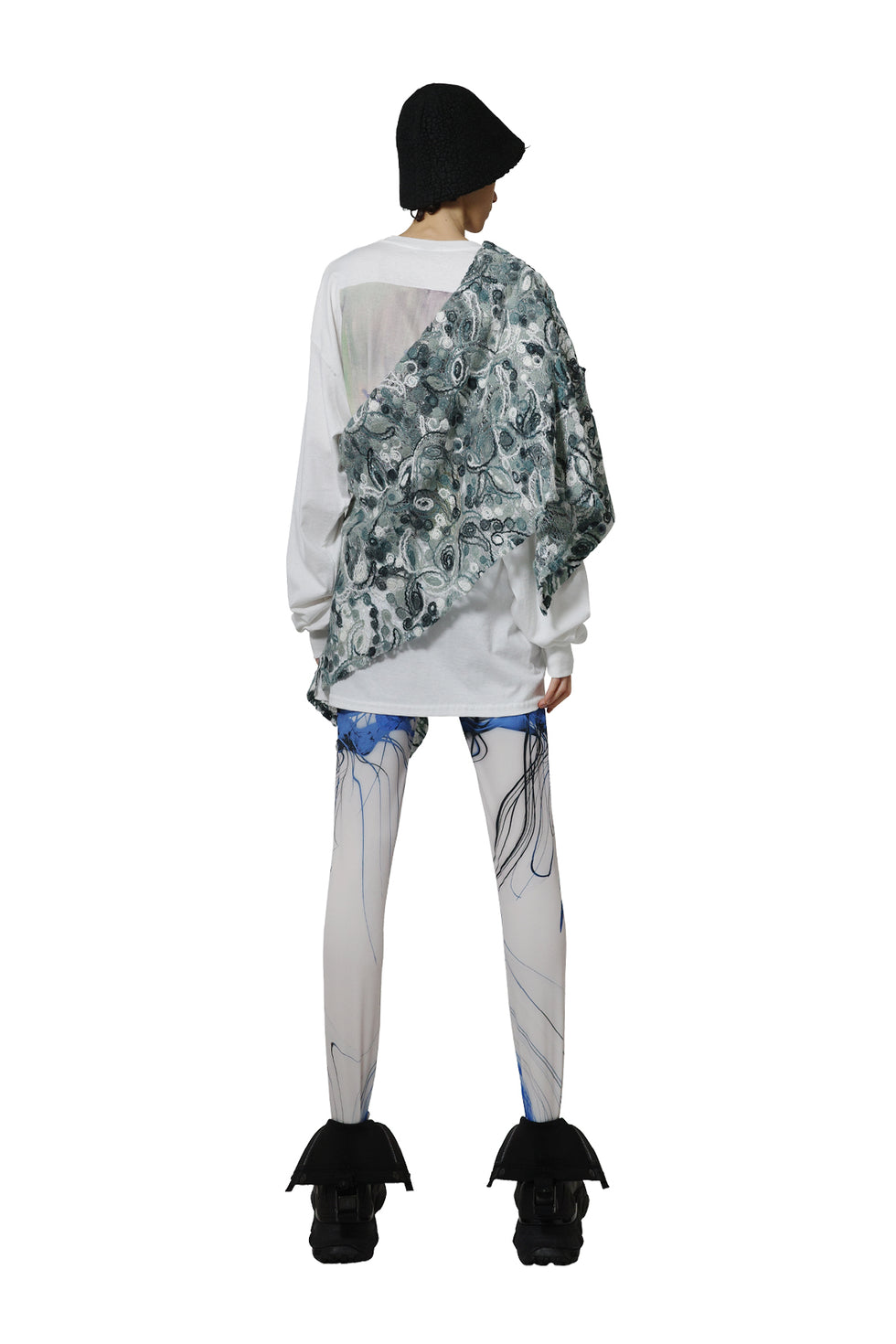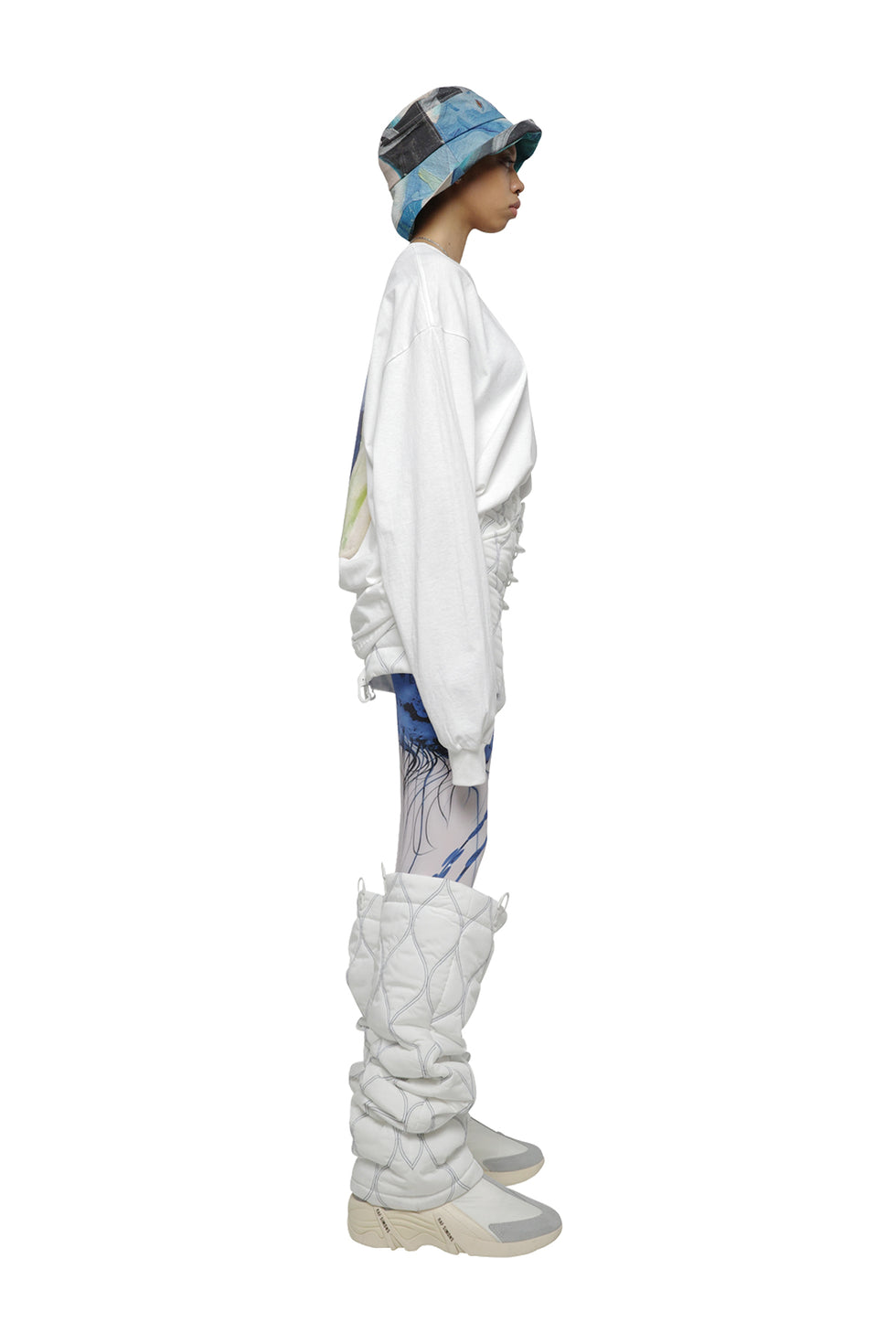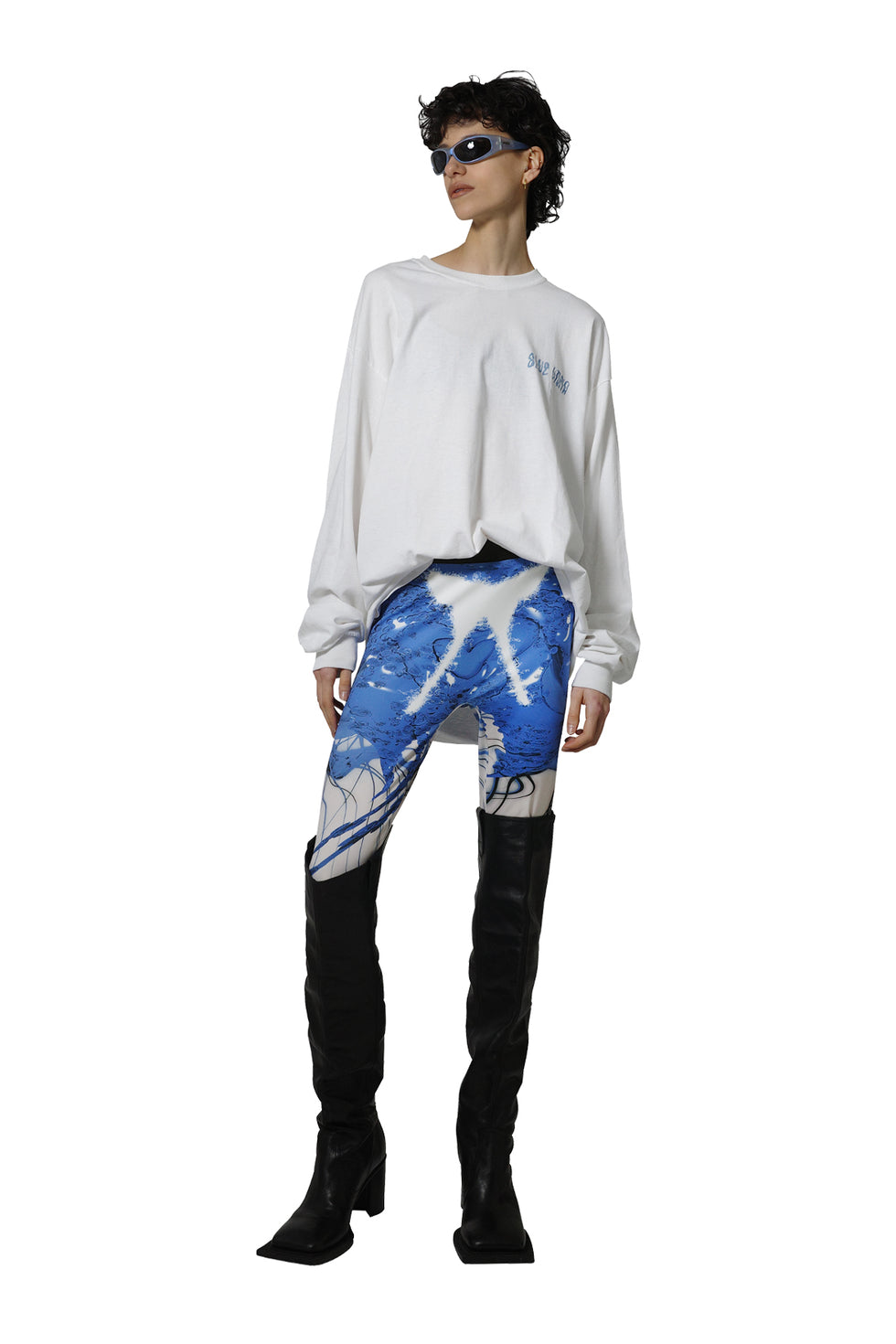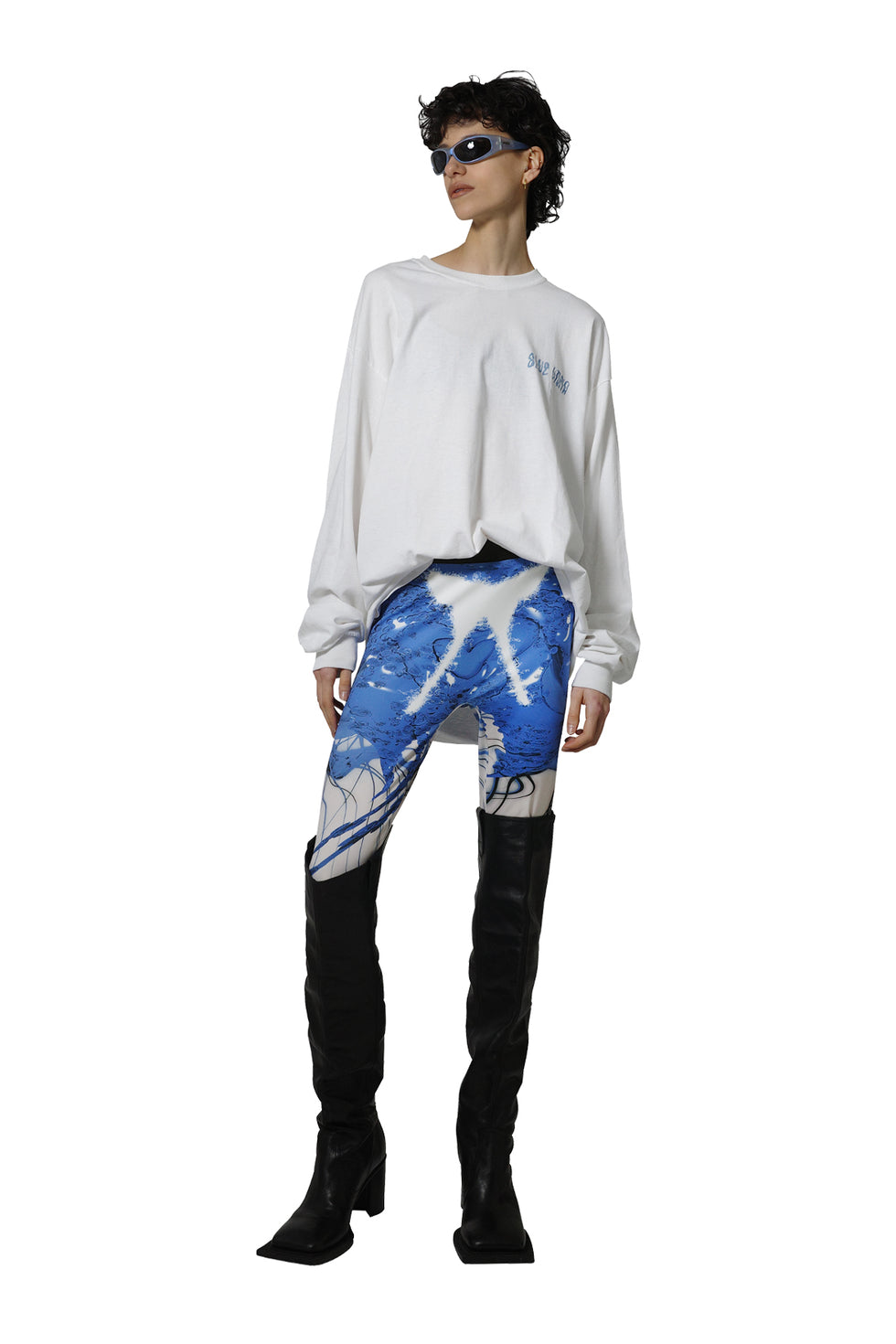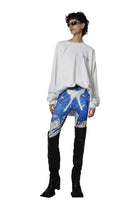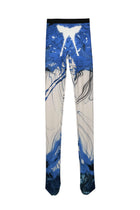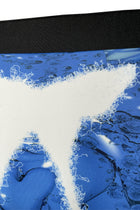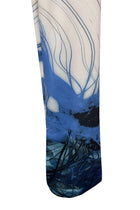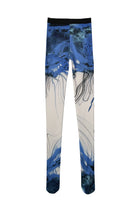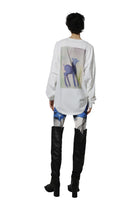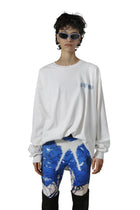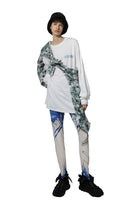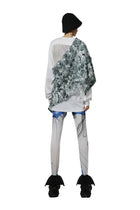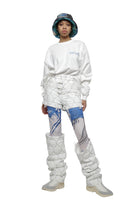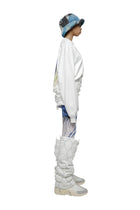 kristina BUTTERFLY EFFECT LEGGINGS -BLUE- *Last1
Tights made by printing Kristina Tuzova's art on ECO FABRIC with the theme of "BLUE UTOPIA"
Features a butterfly on the front
Use elastic material
Waist rubber specifications

"BLUE UTOPIA"をテーマとした Kristina Tuzova のアートを ECO FABRIC にプリントし製作したタイツ
フロントのバタフライが特徴
伸縮性のある素材を使用
ウエストゴム仕様


【ECO FABRIC ITEM】
This product is made from recycled polyester.
Recycled polyester is made from recycled PET bottles, used clothing, and fiber scraps generated at factories, which reduces the amount of petroleum resources that are the raw materials of polyester, leading to a reduction in greenhouse gases.
On the other hand, many synthetic fibers, including polyester, do not decompose naturally, and it is feared that the fibers that fall out during the washing and fabric manufacturing processes will flow into the sea and cause damage to the marine environment and organisms.

この製品の素材はリサイクルポリエステルを使用しています。
リサイクルポリエステルは、回収したペットボトルや古着、工場で発生した繊維くずから再生するため、ポリエステルの原料である石油資源の使用量を減らし、温室効果ガスの低減につながります。
一方、ポリエステルを含め合成繊維の多くは、自然に分解されず、洗濯や生地の製造工程で抜け落ちた繊維が海に流出し、海洋環境や生物に被害を及ぼすことが懸念されている。


Cycle x Kristina Tuzova 2022AW "BLUE UTOPIA"
Collaboration item with Drawing artist "Kristina Tuzova"
She boldly expresses her hand-drawing illustrations that transcend race and gender in the theme of "BLUE UTOPIA".


Drawing artist "Kristina Tuzova"とのコラボレーションアイテム
彼女が描く人種や性差を超えたハンドドローイングのイラストを、"BLUE UTOPIA" というテーマの中で大胆に表現している

I'm an artist from Saint Petersburg currently based in Tokyo.
I started to make sketches when i was in school.
I remember that it was very natural for me to start to draw in my notebook.
Since then i always have a sketchbook in my bag in case i want to make something.
Right now i do not only small drawings but i'm also experimenting with oil paintings and digital art.
Usually i prefer to draw creatures or anything alive as friends, animals, plants, souls and etc.
Right now i'm on the stage where i'm inspired by fragility and sophistication combined with irony and shame.
To show my works to other people was always a very private moment for me, i love to do that, it feels like a small conversation because sometimes people can relate with something they see.
It makes me think about how all of us are connected with each other and how we all are different from each other at the same time and it's very simple but still beautiful for me.
【 Kristina Tuzova 】
私は現在東京を拠点とするサンクトペテルブルク出身のアーティストです。
学校に通っていた頃からスケッチを始めました。
ノートに絵を描き始めるのはとても自然なことだったのを覚えています。
それ以来、何かを作りたい場合に備えて、いつもバッグにスケッチブックを入れています。
通常、私は生き物や生きているものを友達、動物、植物、魂などとして描くことを好みます。
今、私は、皮肉と恥を組み合わせた脆弱性と洗練さに触発されている段階にいます。
私の作品を他の人に見せることは、私にとっていつもとてもプライベートな瞬間でした。
私はそれをするのが大好きです。
時々人々が見たものと関係を持つことができるので、それは小さな会話のように感じます。
それは、私たち全員がどのようにつながっているのか、そして私たち全員が同時にどのように異なっているのかを考えさせてくれます。 それはとてもシンプルですが、それでも私にとっては美しいです。

COLOR : BLUE

ONE SIZE

Length (着丈 ) : 107cm
Waist (ウェスト) : 71~107cm
Hip (ヒップ) : 79cm
Inseam (股下) : 83cm

MATERIALS (素材): 
96% POLYESTER, 4% POLYURETHANE

model : 167cm


Hurry! Only 1 Left in Stock!
Real time
10
visitor right now
PAYMENT METHOD / お支払いについて
Tax Info.
PAYMENT METHOD / お支払いについて
下記のお支払い方法がご利用いただけます。
・クレジットカード(VISA、MASTERCARD、AMEX) ※分割払いはお受けしておりませんので、ご了承下さい。
・Paypal
・Apple pay
・Shop pay
・コンビニ支払
※※支払期限はご注文後5日以内となっております。ご注文完了後、支払番号と支払期限日が記載されたメールが届きます。支払期限を過ぎますと番号が無効となり、ご注文はキャンセルとなります。必ず期限内にご入金をお願い致します。
Tax Info.
※日本国外へ配送するご注文には、配送国の関税等(輸入税、VAT付加価値税、税関手数料等)が別途必要になる可能性がございます。
* For the order shipped outside Japan, extra fee (import tax, VAT, custom duties, etc.) may be charged.